As you can see from the above photo, (I am on the left) I love Halloween and costumes. My own mother didn't recognize me when I showed up at her door for Trick or Treat. My father? he knew right away…lol…
And it doesn't matter if you're dressing a little one up for Halloween, or you need a costume for yourself, costumes can be expensive!  But a little creativity and a dollar store can turn ordinary into extraordinary!
This OWL costume requires no sewing (you can sew the feathers on, but gluing is fast and easy.)
You cut the "feathers" out of old t-shirts or (dollar store to the rescue!) get some of their vinyl tablecloths—in any colors you want—and cut the feathers out of those.  If you're using those instead of gluing, you can simply tape them!  The mask is simply glued to a pair of sunglasses.
Click here to download the template for mask and feathers: Download file
If you want to make any sort of bird feet, you'll need rubber gloves, old shoes, some stuffing and a glue gun.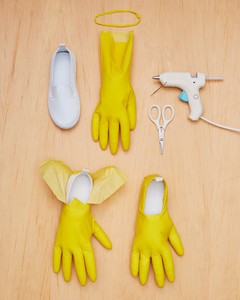 For making any sort of a hat, here is a great picture of how to make an inexpensive base that can be covered with anything.
Want to be an octopus?  The legs from tights (from the dollar store!) can be stuffed and tied to a belt to wear around the waist.
Do you need a beard and mustache for your costume?  They can be expensive, but with felt, a string and some glue…it's not expensive at all!
If you're choosing to be an animal with a mane and a tail (think horse, lion or even unicorn) you could get yarn and cut and tie a lot of lengths together…or you could purchase pompoms from the dollar store.  You may need more than one depending on the fullness you desire.
Wanna be a Minion?  Grab a yellow knit cap and some black pipe cleaners.  The glasses can be made with some black fabric and aluminum foil wrapped around cardboard tubes.
And speaking of cardboard tubes…paint them yellow/orange and glue them to a matching colored shirt to be mac & cheese!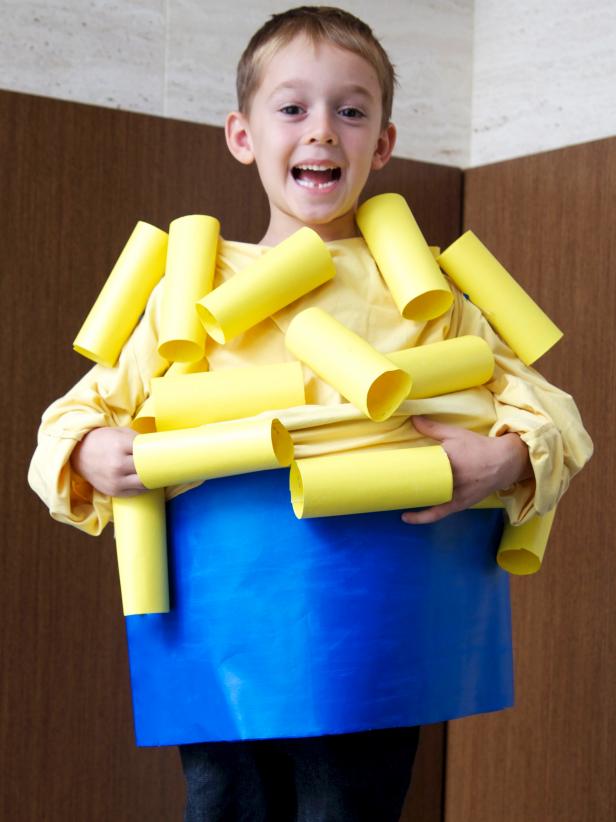 Now if you're thinking more high tech, and you need a jetpack (LOL), this is a very clever idea.  And it can be upgraded! Plastic soda bottles are painted, then fastened to a strap around the chest.  (Adding a clock dial and changing the color and adding more straps certainly kicks this up a notch!)
If you're okay with using shirts you won't wear again, you can make a giraffe costume.  There are 2 ways to do this.  First, get a shirt and pants (if you're fanatical about having a total costume, lol) in a red/orange/brown color.  Then simply use masking tape to create the look.  This method should not render the clothes unusable afterwards.  The second method will.  Get a white shirt and white sweatpants.  Use masking tape to create the giraffe block pattern, then PAINT the unmasked parts with red/orange/brown paint.  Once dry, remove the masking tape. 
One of the easiest and most clever costumes is the one you don't have to wear!  It's a jellyfish.  You get an umbrella, festoon it with twinkle lights and colored streamers.  You can wear a black outfit while you stroll with the umbrella!
I saved this one for last—it's not cheap or easy I would imagine—I just thought it was just so AWESOME!!!