Carnation flowers are symbolic of love, fascination, and distinction and are scientifically known as Dianthus. They are also known as "The Flowers of God." According to a Christian legend, Carnations first appeared on earth as Jesus carried the Cross. Carnations sprang up from where the Virgin Mary's tears fell as she cried over her son's plight.
So, whether you love giving flowers or are an avid gardener, there's something quite special about carnation flowers.
About the Carnation Flower and Plant
The single flowers of the Carnations species, Dianthus caryophyllus have 5 petals and vary from white to pink to purple in color. Border Carnation cultivars may have double flowers with as many as 40 petals.
When grown in gardens, Carnations grow to between 6 and 8.5 cm in diameter. Petals on Carnations are generally clawed or serrated.
Carnations are bisexual flowers and bloom simply or in a branched or forked cluster. The stamens on Carnations can occur in one or two whorls, in equal number or twice the number of the petals.
The Carnation leaves are narrow and stalk less and their color varies from green to grey-blue or purple. Carnations grow big, full blooms on strong, straight stems.
Growing Carnations
Carnations grow readily from cuttings made from the suckers that form around the base of the stem, the side shoots of the flowering stem, or the main shoots before they show flower-buds.
The cuttings from the base make the best plants in most cases.
These cuttings may be taken from a plant at any time through fall or winter, rooted in sand and potted up.
They may be put in pots until the planting out time in spring, which is usually in April or in any time when the ground is ready to be handled.
The soil should be deep, friable and sandy loam.
Carnation Plant Care
Carnations need some hours of full sun each day and should be kept moist.
Avoid over-watering as this may tend to turn the foliage yellow.
Spent flowers should be removed promptly to promote continued blooming.
The quality of the bloom depends on the soil and irrigation aspects for growing carnations.
Those who grow carnations should know the importance of pinching, stopping and disbudding.
At the time of plucking carnations, leave three to four nodes at the base and remove the stem.
The plant foliage should not be exposed to the direct heat of a stove or the sun.
Carnation Meaning
These flowers are one of the oldest cultivated flowers across the globe. As such, they have a rich history associated with symbolism, and there are several different meanings. The three most loved colors are pink, red, and white carnations.
Pink carnation flowers are known to reflect a mother's love and gratitude. However, dark pink ones represent tenderness and are sometimes associated with the feeling of love that could bloom on a first date. Light pink carnations are the ones that most dearly express the love of a mother.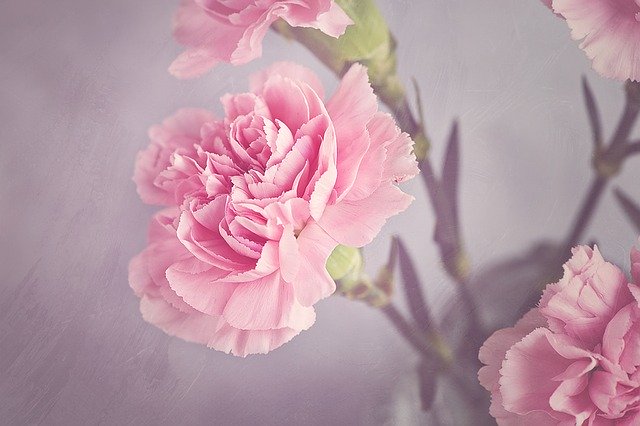 Red carnations are most commonly associated with feelings of deep love and affection. Light red ones symbolize admiration – the lightness of their hue enunciates a softer expression of the portrayal of love. While red roses are the ultimate in romance, red carnations are great if you want to convey something a bit less serious.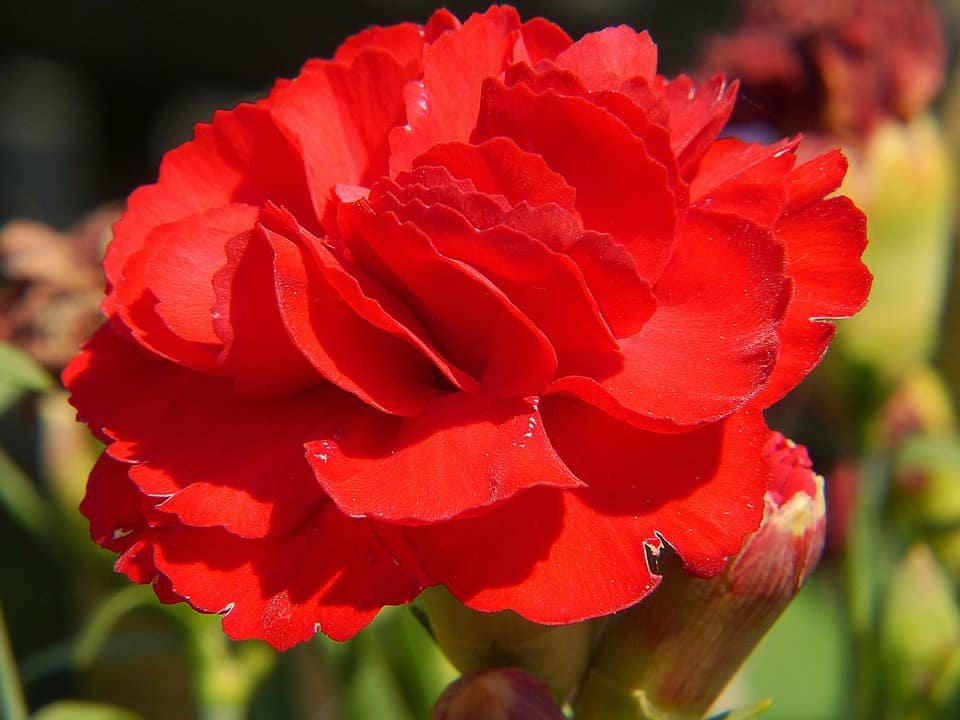 When it comes to pure love and good luck, white carnations are your best bet. White is a color of purity and luck. When gifting someone white carnations, you convey messages of good wishes for a prosperous life.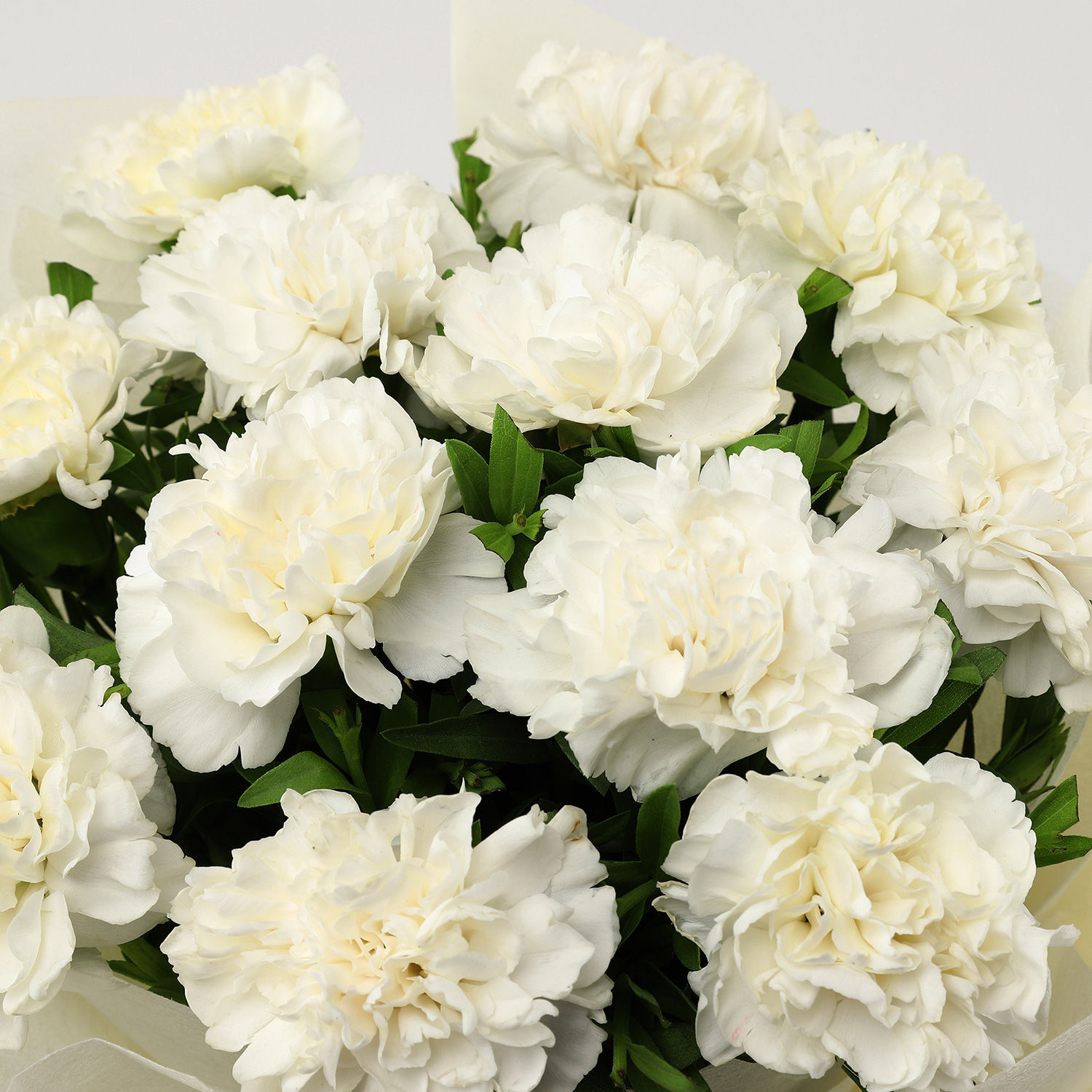 The Symbolism of The Carnation Flower
Believe it or not, carnations exude strong symbolism. Although these flowers could easily be taken for granted, they actually have a lot to teach us.
Carnation flowers have a different symbolic meaning in various cultures around the world.
Chinese culture: Carnations are typically used at weddings.
Rome and Greece: Carnations were used in ceremonial crowns, and the name was believed to derive from the Latin word for "wreath" or "garland."
Korea: People wear pink and red carnations on Parents Day to express admiration, love, and gratitude.
Japanese culture: Carnation flowers are the most loved flower for Mother's Day, and the red carnation is symbolic of love.
American culture: Carnations are the official Mother's Day flower and are commonly used for special occasions such as weddings for corsages and boutonnieres for proms.
Victorian era: The colors of the carnation symbolized an answer to a secret question. A yellow carnation was indicative of 'no,' and a solid color meant 'yes, and a striped carnation communicated rejection in a diplomatic way.
Growing Tips for Carnations
Carnation flowers are known to thrive in humid environments. This means that they flourish best in moist conditions. They also grow better when placed fully in the sun with soil that is either slightly alkaline or more neutral in alkalinity.
Caring for them requires little effort, and when stems are cut, they can last for a few weeks. This is what makes them so ideal for growing and using in flower arrangements and bouquets. To make sure that they grow well, it's best to make sure that they get about four to six hours of sunlight a day.
Take care not to over water carnations. Watering them two to three times a week should suffice. If you notice that the petals or foliage turn yellow, you're probably over watering them.
If you want to try growing them from seeds, it's best to plant them in early spring or late fall. It's also a good idea to grow them indoors. Allow the seedlings some time to grow, and when they are around five inches tall, you can transfer them into a bed that is well prepared or into a pot.
Carnation flowers will form small side shoots (or suckers) around their stems to allow for growth from their cuttings. The best time to take cuttings is in the summer. During this time, the plant cells divide at a faster pace, which promotes root growth. You can also use peat to add more nutrients to the soil to help your carnations grow better.
Uses Of Carnations
Throughout history, there have been several uses of carnations. A common use was to brew the flowers in tea. This is thought to help reduce stress and boost energy levels. Carnation tea can also be used to treat fevers and stomach aches.
In the beauty industry, some products include carnation oil as an ingredient to help moisturize the skin. In addition to this, carnation flowers have also been used in massage oils to help soften and heal the skin while providing a calming scent.
In A Nutshell
Carnation flowers are unique and special, and they should be given credit for their rich history and symbolism. They are robust plants – making them the perfect flowers to grow in your garden. Also, they pair well with other flowers and have a pleasant, calming smell.