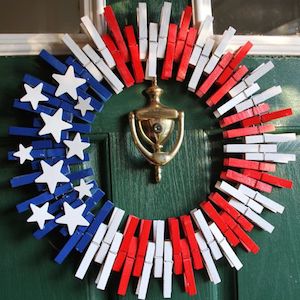 The Fourth of July is coming up and there are relatively easy and cheap ways to display your American pride!
Tin Can Windsocks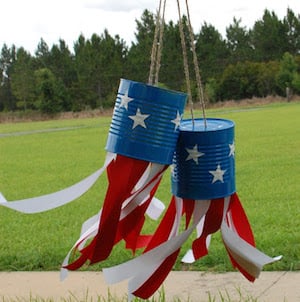 Save some tin cans and spray paint them blue.  Punch 2 holes in the top of the cans and string twine through the holes.  Cut a star shape out of plastic lid (cool whip or butter dish) and use that to stencil the white stars.  Then add tissue paper or construction paper strips in red and white fastened to the inside of the can.
Paper Chain Railing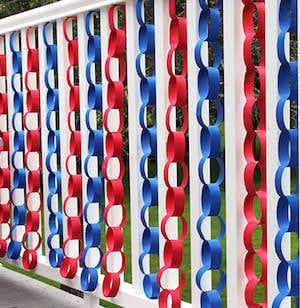 Cut some red and blue strips out of construction paper to make chains to fasten on a white fence or deck railing.
Doily Banner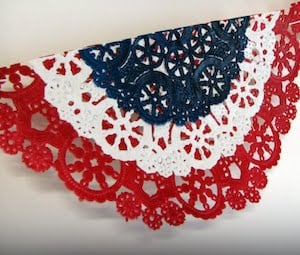 For this banner you'll need doilies from the Dollar Store, spray paint, modpodge and string or twine.  Keep a third of the doilies the original size.  Trim another third of the doilies to be the "middle" size and trim the remaining doilies to the smallest size.  Paint the largest doilies red, leave the middle size white and paint the smallest ones blue.  When they're dry, cut them in half carefully and modpodge the 3 layers together.  When they're dry, run the string or twine through the doily holes to string the banner up.  
Clothespin Wreath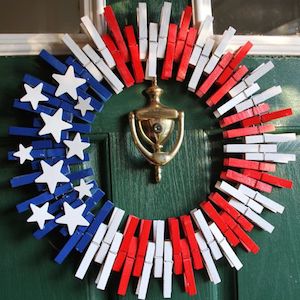 Spray paint clothespins red, white and blue and when dry, clamp them onto a wire wreath.  Attach foam stars with glue.  Everything but the spray paint can be obtained from the Dollar Tree.
Painted Lawn Stars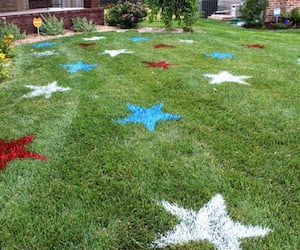 Make a cardboard template and use construction marking paint to make stars on your lawn.  The idea comes from The Concrete Cottage and listed below are answers to frequently asked questions about this project:
Update: This is now my most viewed post and it's garnered many questions. I'd like to go ahead and answer the three most asked questions here. 
First… This paint is specifically made for using on grass and it will NOT kill the grass. I can personally attest to that fact.
Second… The paint is construction marking paint, it's intended to be sprayed upside down, and can be found at any home improvement store. 
Third… It dries very quickly and is permanent. It only comes off as the grass grows out and you mow it off.
Balloon Flag
Easy idea for a decoration and a game!  Pegboard makes this easy to do, but the balloons can be taped to any board or wall you have.  (You may not want to use the balloons for darts later on if you are using the side of your house or garage…lol)
The ideas are endless…so let your inner Patriot out and celebrate what's GREAT about America!!!