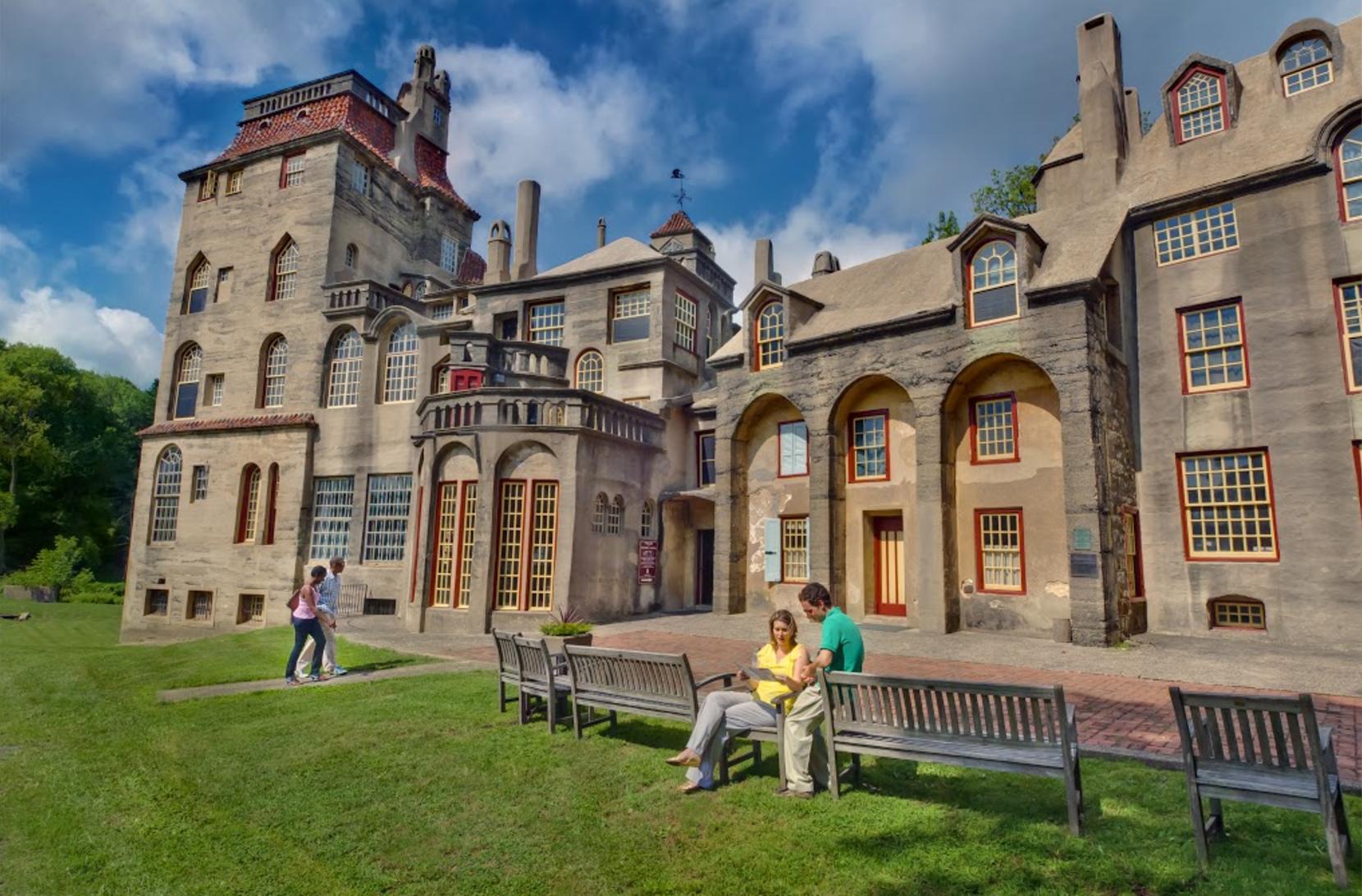 Fonthill Castle was the home of the archaeologist and tile maker Henry Chapman Mercer. Built between 1908 and 1912, it is an early example of poured-in-place concrete and features 44 rooms, over 200 windows, 18 fireplaces, 10 bathrooms and one powder room. It is modeled after a 13th-century Rhenish castle, with Gothic doorways, 32 sudden stairways, dead ends and the 44 rooms are each in a different shape. It's said that Harvard-educated Henry Chapman Mercer built his storybook stone mansion, with its turrets and balconies, from the inside out and without using blueprints.
The interior was originally painted in pastel colors, but age and sunlight have all but eradicated any hint of the former hues. One room in the Terrace Pavilion (built on the site of the former home's barn), has a restored paint job so visitors can view the home's former glory. The castle contains built-in furniture and is embellished with decorative tiles, made by Mercer at the height of the Arts and Crafts movement. The castle is filled with an extensive collection of ceramics embedded in the concrete of the house, as well as other artifacts from his world travels, including cuneiform tablets discovered in Mesopotamia dating back to over 2300 BCE. The home also contains around 1,000 prints from Mercer's extensive collection, as well as over six thousand books, almost all of which were annotated by Mercer himself.
The Castle was listed on the National Register of Historic Places in 1972, and was later included in a National Historic Landmark District along with the Moravian Pottery and Tile Works and the Mercer Museum. These three structures are the only poured-in-place concrete structures built by Mercer. The Moravian Pottery and Tile Works is located on the same property as Fonthill Castle, and the Mercer Museum is located about a mile away.
Henry Chapman Mercer, an expert in prehistoric archaeology, a homespun architect and a writer of Gothic tales, built three memorable structures, including Fonthill Castle, the Moravian Pottery and Tile Works and the Mercer Museum. These historic attractions make up what's now known as the Mercer Mile. Each of the buildings was constructed with reinforced concrete using a technique perfected by Mercer in the early part of the 1900s.
Mercer's collection of books, prints and Victorian engravings are preserved in this grand home, whose stark concrete exterior belies the ornate and eccentric style of the interior.
Interior pictures: