 Graceful and stealthy, this North American cat is an extraordinary hunter and can thrive in regions from Canada to Mexico. And yes, their offspring are called bobkittens. Read on for more fascinating facts about bobcats.
Bobcats got their names because of their tails.
Though many felines have long, sinuous tails, an adult bobcat's averages just 6 to 7 inches in length; the word bobcat is a reference to this stubby appendage. (In barbershop lingo, hair that's been cut short is sometimes called "bobbed.") Other names for these animals include bobtailed cats, wildcats or bay lynxes.
Bobcats and Canada lynx are not the same thing …
While bobcats are actually a type of lynx in North America, the term is more generally associated with the Canada lynx. On the surface, these two species look very much alike. Both, after all, are similarly proportioned, mid-sized cats with stumpy tails and pointed ears. Still, some noticeable differences do exist between them.
First, the Canada lynx is slightly bigger with longer limbs and larger feet. Another key dissimilarity lies in the fur: Bobcats have short, reddish-brown coats with well-defined spots while lynx are shaggy, gray, and have faded spots. If you were to compare their hindquarters, you'd notice that a bobcat has black bands on its tail, whereas a lynx's tail only displays a solid, black tip. Also, lynx ears have longer tufts.
Bobcat
Canada lynx
But where these felines truly deviate from each other is in their lifestyle preferences. The lynx is a cold-weather cat that lives further north and at higher elevations. Their enlarged paws act like snowshoes, enabling these hunters to pursue such game as snowshoe hares with relative ease. Bobcats, in contrast, are built for warmer environments. Also, while lynx mainly eat hares, bobcats have a more varied diet and will readily hunt birds, small mammals, reptiles, and deer. Here's another noteworthy tidbit: Bobcats tend to be much more aggressive—in fact, some zoo keepers call them the "spitfires of the animal kingdom."
But bobcats and Canada lynx can mate.
The Canada lynx is found throughout its namesake nation and some northern parts of the U.S. (as well as Colorado). Since bobcats and lynx belong to the same genus (which, confusingly, is named Lynx), the two species are very similar at the genetic level. Over the past 15 years, a handful of confirmed hybrids have turned up in the northern U.S. The mix-matched predators tend to display a bobcat's general build and the pointier ears of a lynx. In keeping with the tradition of giving delightful portmanteaux names to hybrid animals, these critters are now known as blynx.
Bobcats tend to hunt at dawn and dusk.
Wild bobcats do the majority of their hunting in low-light conditions. The animals usually wake up three hours before sunset and then go back to sleep around midnight; they wake up again roughly an hour before dawn. In the early morning, the felines return to their slumber and the whole cycle repeats itself. Bobcats are at their most active during the twilight hours, when potential targets like eastern cottontail rabbits tend to forage. In the wintertime, though, food gets scarcer, which prompts some of the cats to change their schedules: Throughout the colder months, bobcats in northern states will often adjust their sleep regimen so that they can spend more time tracking down prey in broad daylight.
Adult bobcats can bring down animals that weigh much more than they do.
Fully grown bobcats can weigh up to 33 pounds. For the most part, they eat rabbits, birds, rodents, and other fairly small creatures. However, the cats are also extremely adept at killing adult white-tailed deer. Although they generally hunt fawns, they have been known to kill adults, which can weigh 250 pounds or more. To slay such a large herbivore, a bobcat will jump onto its back and bite through the throat.
Bobcats are excellent climbers and jumpers.
When threatened by a bigger carnivore, these cats will usually head for the safety of the nearest tree. Climbing among the branches also affords bobcats the opportunity to dine on nesting birds every so often. The felines have also been known to pounce onto unwary deer from overhanging tree limbs.
They're also incredible jumpers. Able to clear 12 feet in a single bound, the cats can easily jump across narrow waterways. One of them went viral in 2020 after it was filmed leaping across a yawning gap in a Louisiana dock that had partially collapsed. According to the Washington Department of Fish and Wildlife, bobcats can jump fences over 6 feet tall.
Bobcats like to cover their kills.
Bobcats can't always consume their prey in one sitting. Sometimes, the carnivores use dirt, snow, leaves, or grass to bury the uneaten pieces of especially large corpses, and will return periodically to dig up their leftovers. This behavior is known as "caching," and it's also practiced by the North American mountain lion. Unfortunately, burying a corpse won't guarantee that it won't be discovered or nibbled on by other carnivores. Ravens, coyotes, bears, and those aforementioned mountain lions won't hesitate to raid a bobcat's secret stash if the opportunity arises.
Invasive pythons are a major threat to Florida's bobcats.
Being a hunter doesn't guarantee that you, in turn, will never be hunted. Owls, foxes, and coyotes regularly make off with bobcat kittens. Cannibalism is another big problem for these helpless infants, which are sometimes gobbled up by wandering adults (usually males) who belong to their own species. Fully grown bobcats don't have many natural predators, although mountain lions have been known to kill those that encroach on their territory.
But in recent years, the short list of carnivores that eat bobcats has grown one entry longer. Since 2000, a Burmese python epidemic has been constricting the Florida Everglades. For decades, exotic pet owners have released a steady stream of these Asian snakes into the region, where they now thrive. Capable of weighing 200 pounds, the pythons are large enough to consume dogs, deer, and even alligators. Perhaps unsurprisingly, at least one euthanized specimen has been found with a bobcat corpse in its stomach.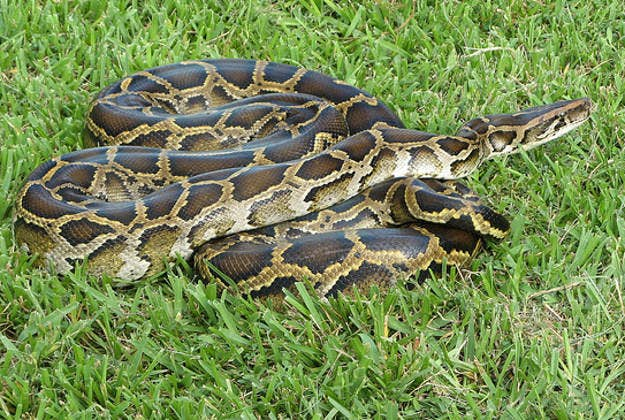 Pythons are also devouring the animals that bobcats depend upon for survival, including rabbits, raccoons, and rodents. Not coincidentally, the number of bobcat sightings in the Everglades fell by 87.5 percent between 2003 and 2011.
Bobcats can run up to 30 mph.
Lynx rufus can sprint faster than any human being, but the cats also know when to slow things down. In 1966, two naturalists reported seeing a wild bobcat take 13 minutes to crawl across just 3.28 feet of ground. At the time, the predator was sneaking up on a cotton rat—which it was able to capture thanks to its patient approach.
Bobcats make a wide range of sounds.
We're talking hisses, snarls, and meows, to name a few. When mating season rolls around, the cats may emit a screaming cry known as a "caterwaul" in a bid to attract partners. This vocalization is very loud, with the sound traveling as far as a mile away.
Bobcats can swim.
Bobcats don't mind getting their feet wet while hunting beavers. The felines happen to be good swimmers overall, and they've been filmed or photographed paddling across lakes in such places as Illinois, Maine, and the Kentucky-Tennessee border.
Bobcats and coyotes compete for some of the same food sources.
The two carnivores hunt some of the same prey animals, meaning the coyote-bobcat relationship can be hostile. An influx of coyotes into a given habitat may result in fewer bobcats living there. However, this doesn't always happen. In certain ranges, it appears bobcats and coyotes peacefully coexist. Interactions between them are of great interest to field biologists.
Bobcat tracks usually don't have claw prints.
Individual pawprints are about two inches long from end to end. At first glance, they might resemble the tracks of a coyote or domestic dog. But while those canids leave claw marks behind, the bobcat usually doesn't. That's because the felines have retractable claws, something dogs and coyotes both lack. Other differences include the general shape of each track; dog and coyote prints are more likely to be longer than they are wide—which isn't the case with bobcats.
Bobcats come in different colors.
In Bobcat: Master of Survival, Kevin Hansen writes that in 1978, naturalist Stanley Young "described an albino bobcat that survived four years in the wild before being captured and placed at a Texas zoo." On the other end of the color spectrum, there are melanistic bobcats with fur that's almost entirely black. They mostly occur in Florida, where at least 10 black bobcats have been trapped over the years.
Bobcats are part of the same cat subfamily as cheetahs.
Of course, we're talking about the Felinae.  This group includes bobcats, cheetahs, ocelots, cougars, and domestic house cats. The only other major cat subfamily is the Panterinae, to which the really, really big species—like lions and tigers—belong.